For Shailesh Jacob, co-founder of the Gurgaon-based Loan Frame, starting a lending marketplace for SMEs was more than a big opportunity — it was also about contributing to the overall economy. According to the Ministry of MSMEs, the sector contributes around 38% to the GDP and provides the largest share of employment, after agriculture. "In India you have over 50 million SMEs and credit penetration is less than 10%," Jacob points out. In August 2015, he launched Loan Frame partnering with around 20 lenders.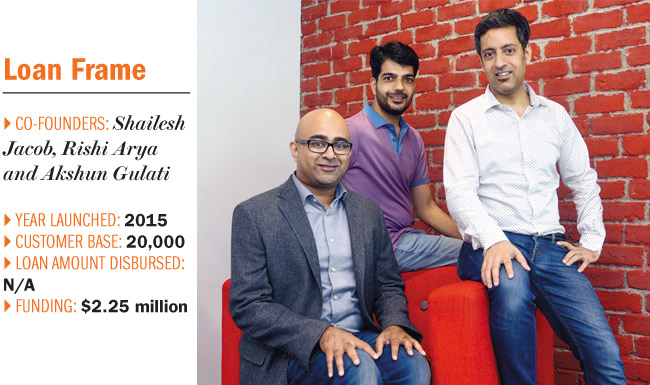 "Many lending institutions have a policy to cater to SMEs with a certain turnover and credit score. However, we ask people to focus on the health of the business — positive cash flows and the willingness to repay,"
says Jacob.
Often, credit scores are low owing to some delayed credit card payments, all of which have no real bearing on the current health of the business. The team, hence, worked with lending partners to introduce products that cater to micro SMEs.
"Take the case of SMEs in the hotel or in the restaurant business — they are viewed as high-mortality businesses by banks. We come up with innovative ways to analyse and assess customers mostly on transactional data, to come up with products for this segment,"
adds Jacob.
Loan Frame uses both manual and digital data for analysis and focuses on sectors such as manufacturing, services, healthcare, pharma and automobile among others. It uses sector-specific data points to strengthen a borrower's assessment and through a cash-flow analysis arrives at a comprehensive comparative borrower risk profile. Social media data, online footprints and e-commerce data among others are used to supplement the assessment process. The start-up is also developing behavioural and psychometric scores that would help better assess thin file customers (customers who have little or no credit history).
The company makes its way through the entire lifecycle of a loan — from targeting customers through mobile or web channels (to make the process faster) to  recommending them to the lender to monitoring the customer post disbursal. Using the technology available at its disposal, a process that would take three days, is be completed in a matter of seconds.
"We help lending institutions with a number of data points to better equip them to take decisions,"
Jacob says.
Loan Frame has catered to around 20,000 customers across 175 locations in India.
"Small businesses are credit starved, resulting in significant demand. But lenders today are not geared up to assess much of this demand as these businesses do not fit into their target segments owing to high cost of acquisition and assessment,"
states Jacob.
The start-up, which has over 10 lending partners, takes 1-2% cut on each successful financing, depending on the type and number of services availed by the lender. A fee is also charged each time a customer is brought in. The 40-member enterprise offers over 50 products presently and has raised $2.25 million in seed funding led by Vedanta Capital in 2017.
---
The article was published on 
Outlook Business on Oct 27, 2017.